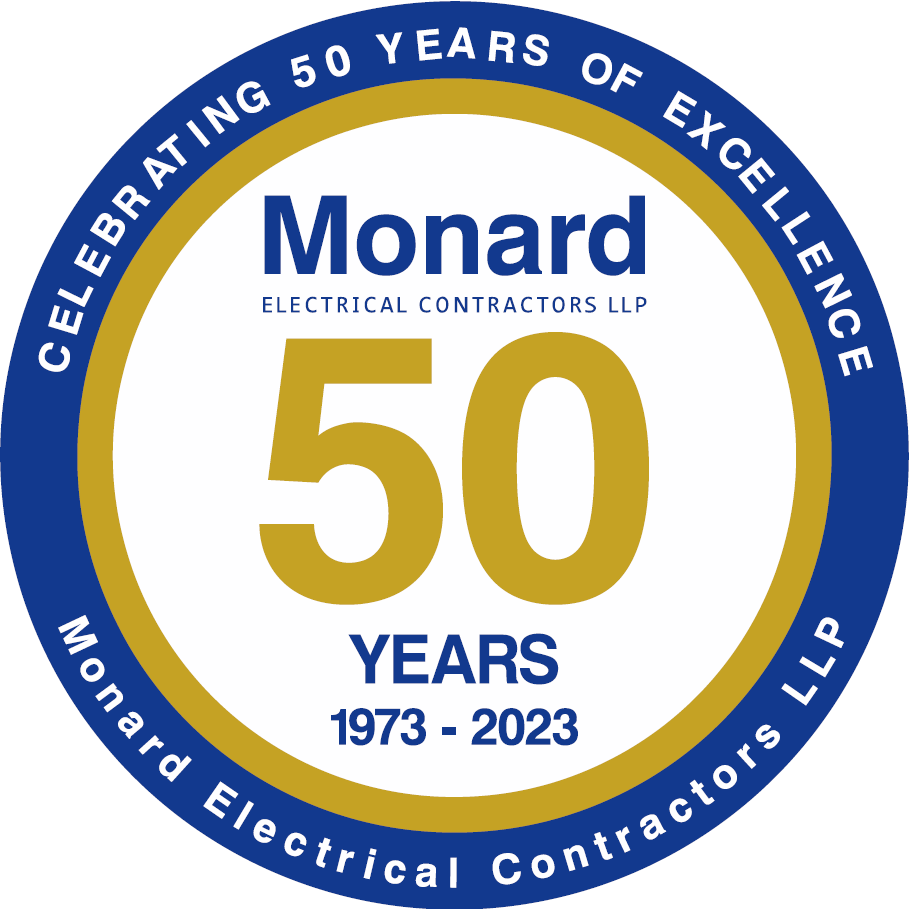 CELEBRATING MONARD ELECTRICAL'S 50th ANNIVERSARY
Monard Electrical – Delivering hard work, honesty and integrity since 1973
We're thrilled to celebrate our 50th anniversary in 2023. It has been a fabulous five decades, kicking off in 1973 with two keen electricians.
Terry Monaghan and Peter Richards had met at Lowe and Oliver as apprentice electricians, but they had big ambitions. Monard Electrical was born in late 1972 and started trading on 1st January 1973, with Terry and Peter as equal partners.
Word soon got around that Monard was a reliable, honest company and the clients and orders started coming in. University College, Oxford Polytechnic (Now Brooks University), Thames Water Rivers Division (Environment Agaency) and Oxford University itself were some of the first. Terry and Peter soon had to employ help from another Electrician Cliff Jones, and Cliff ultimately stayed with Monard for over 40 Years. We have many members on our team that have been working with us for over 20 years + .
1980 saw the business move from home-based to our own premises on Denmark Street in Oxford. Built in 1885 and originally a sausage factory supplying troops during the Boer War, then an electrical wholesaler, it was perfect. So it was purchased and Monard Electrical found its home in Denmark Street .
Hard work and small profits ultimately gave way to a successful company, but Terry and Peter limited their expansion and grew sustainably. They never had to advertise and continued treating core customers to unrivalled attention. We still think it's the best way to grow a company and build the solid relationships needed to sustain it.
Joining the NICEIC as soon as they met the required standards, Monard steadily expanded further, accepting two or three apprentices each year.
In 2007 they decided a management buyout scheme was the best way ahead. David Sheppard, Peter Tyreman and Mark Simms became Monard's new partners, and Terry and Peter passed over the reins to the new management team.
A salute to our clients, old and new
We have worked with some amazing clients over the years, many of whom have come back to us time and time again. In the early days we worked with Thames Conservancy, British Gas, University College Oxford, University of Oxford and many local builders.
We have worked on some major projects over the years :-
Le Manior aux Quat'Saisons Restaurant – Great Milton for Raymond Blanc
Kellogg Building Wellington Square Oxford
University Museum – Oxford
Dyson Perrin – Academy Oxford
University College Boat House
Natural History Museum
Christ Church Cathedral
Various large house – Bucknell Manor , Culham Court , Thames Side Court , Highbury in Ascot
Ashmolean Museum – Bam
Are to name just a few
Here's to the next 50 years!
We're genuinely excited about the next five decades. Sustainable growth, ongoing dedication to our clients, top class work, professionalism and considerable expertise remain the name of the game at Monard, and we're all set to provide the same high standards of work and service to take us through to the next century.
As one of the current owners, Stuart Simpson is optimistic about the future. In his words:
"When myself and my business partners make decisions it is something I know comes from the right place, with the right intentions, because all three of us have been on the exact same pathway with Monards, from apprenticeship to electrician, to the office and then to partner.
One of my roles as a partner is to look after our apprentices. In 2019 we were awarded the JTL Employer Commitment to Training Award, a fantastic recognition of our efforts and dedication.
We have a wonderful set of staff and a wonderful core of clients who are at the absolute front and centre of our business. I truly hope that there will be future generations celebrating a centenary party in fifty years time."
Let's leave the last word to another of the current Monard Electrical partners, Richard Francis. As he says:
"We're extremely proud to reach this historic milestone. We have seen many changes in our industry over the last 50 years, but a few things have remained true to the core values of our business – hard work, honesty, and integrity.
We have always been a family-style business, which means we like to get to know our customers – and our own team members – on a personal level as well as professionally. Our successful apprenticeship scheme has proved the bedrock of our success.
The current owners, myself, Mark, and Stuart, all worked our way through the apprenticeship scheme and now run the business, revealing the genuine progression our model delivers and the loyalty it generates. I am thrilled that the company is thriving and can't wait to be part of the next 50 year chapter!"
A big thank you to all our amazing clients, the construction firms we collaborate with, and to the brilliant team of people who work for Monard.